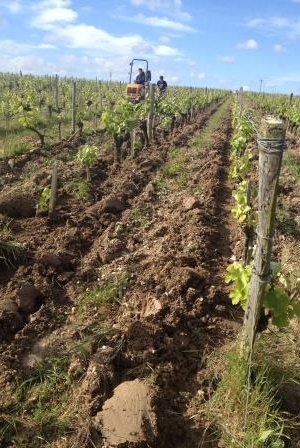 The work in the vineyard
"In many French vineyards there is less microbiological life than in the Sahara Desert" statement made by Claude Bourguignon, a soil specialist.
We hoe, we earth-up, we smooth over, we turn the topsoil and we scratch the earth. All this work buries the weeds and airs the soil, both of which encourage the microbial life in the soil around the vines. We only use organic treatment against downy mildew, powdery mildew and grape vine pests such as the European grapevine moth.
The biodynamic preparations we use favour the plant by helping it to resist diseases and they also boost microbial life in the soil. Working the earth and adhering to organic farming livens up the soil and reveals the terroir in the wines.
Pruning and managing productivity
Stephan is pruning.

  
 •    The double guyot form of pruning is used for the whites
  
 •    the single guyot form of pruning is used for the reds of Doctor Jules Guyot who also gave his name to the Guyot pear.

The pruning takes 2 to 3 people about four months. We burn the diseased pruned wood to avoid contamination and we shred the healthy vine shoots. We aim to get 10 to 12 bunches of grapes to a plant. Depending on the years, there are more or fewer bunches of grapes which are more or less juicy.

Skillful pruning is essential for the quality of the harvest, but it is not the only factor. There is also the crown suckering (removal of unwanted new shoots) and the bunch thinning.