Our commitments from the vines to the wines
Wine is the result of two elements, the way in which the vine is cultivated:
By farming organically we ensure that our plants and fruit are healthy and wholesome for human consuption while at the same time guaranteeing the conservation of the environment and the ecosystem.
And also the way in which the wine is made:
Our method of wine-making is "natural", refusing any interventionist oenology.
Only the combination of organic farming and natural wine-making can lead to the production of such authentic wines.
Vin nature
Seule l'alliance de la culture biologique et de vinification nature permet d'élaborer des vins authentiques
Organic and biodynamic treatment
We have chosen to farm our vineyards organically following the methods of controlled agrobiology certified by "Qualité France" and also the principles of biodynamics.


Remplissage
En cave on remplit bien les barriques et on goûte souvent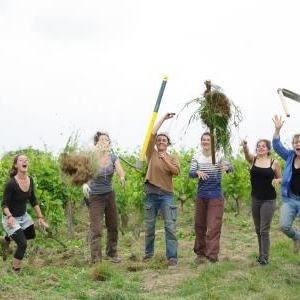 Spontaneous vegetation growing in the vineyard is not a disaster
We believe in working the ground, using a plough, elbow grease, an in-row tiller, a three prong cultivator...we have lots of tools!  
Weeds worked into the earth nourish the micro-organisms.

Chemical weed killers eventually kill off all the micro-organisms which the vines use to draw their nourishment from the soil. When this happens the growth of the vine frequently slows down, which in turn means that chemical fertilizers are all too often resorted to. But these chemicals are absorbed by the plants to the detriment of the elements present in the ground. In this vicious circle the terroir always ends up disappearing and in doing so the character of the wine is lost. This is why, with the use of technological methods of production, just about all the wines are alike and are unfortunately becoming identical.
Vines can resist diseases naturally
We spray our vines with preparations made from plants, horn manure, and silica which we "energize" either by hand or with an "energizer". These preparations stimulate the micro-organisms in the soil as well as the vines rendering them resistant to diseases. 
Nowadays it is a recognized fact that phytosanitary products poison the vine, weakening its resistance to disease. As with any living organism, its acclimatization to so-called treatments diminishes its capacity to fend off external attacks. In addition to this, the grapes lack flavour and correct fermentation is not so readily obtained.
We use a copper based 'bordelaise' mixture, dosed at 4kg/H against downy mildew. Our Anjou area is not prone to powdery mildew, but should this happen we would use either powdered or wet sulphur.