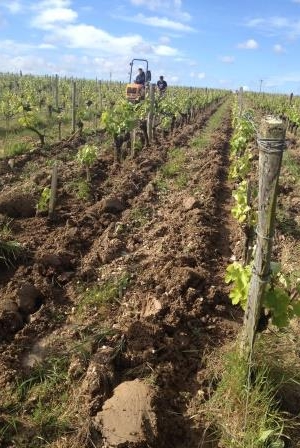 The work of the vineyard
We plow. This allows for the burial of herbs, the aeration of the soil, which promotes the life of micro-organisms. Treatments against mildew and powdery mildew are biological. Purins of nettles, consoude promote the plant, help it to resist diseases and revive the microbial life of the soil. Tillage and the organic vineyard makes the soil alive and reveals the soil in the wines.
Pruning and yield
Double guyot for whites
The simple guyot for reds

The pruning lasts about 4 months every day to 2 or 3 people.
We burn the cut woods to avoid the contamination of the wood diseases for the vines which suffer from it and we grind the vines in the healthy vines.
We hope about 6 to 8 clusters per strain.
Depending on the year the bunches are more or less numerous and more or less juicy.
The quality of the pruning as well as disbudding is essential for the quality of the harvest